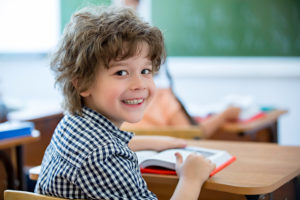 Labor Day is fast approaching, which means the long days of summer are coming to an end, and the new school year is right around the corner. As you begin thinking about your back-to-school list, there is one special item that you should definitely include! In addition to folders, crayons and new school uniforms, a trip to a dentist in Manchester is an important part of getting your child ready to return to the classroom. Scheduling an end-of-summer dental checkup is not just a good idea for your son or daughter's oral health – it could also impact their grades!
The Link Between Oral Health and Good Grades
Did you know that cavities are one of the top health concerns related to young children? Indeed, according to the Centers for Disease Control and Prevention, tooth decay is the most common chronic disease for children ages 6 to 19.
When a child is sick or has a fever at school, they often cannot concentrate on their lessons or do not feel like raising their hand to answers teachers' questions. Similarly, toothaches and other dental problems can seriously disrupt a child's focus in the classroom, keeping them from participating in class and negatively impacting their grades.
Moreover, small dental problems like emerging cavities or the early stages of gum disease can develop and worsen over time if not caught and treated early. Serious dental trouble can cause your child to miss significant time from school. According to the American Dental Association, each year, children with dental diseases miss more than 50 million hours of school!  
A back-to-school dental checkup is an opportunity for your child's dentist to catch and treat any small dental issues before they worsen and ensure your son or daughter does not miss valuable time in the classroom.
Tips to Keep Your Child's Teeth Healthy at Home
Just like studying outside the classroom is an important part of learning, taking care of your teeth outside the dentist's office is an important part of maintaining a healthy smile. Below are some tips to help keep your kids cavity-free in between dental checkups:
Set a good example by brushing your teeth alongside your children every morning and before they go to bed. Make sure they brush their teeth for a full two minutes each time.
Children should also floss at least once a day to remove tiny bits of food from between teeth.
Sugary snacks such as candy bars and popsicles are loaded with sugar and can contribute to tooth decay. Try offering orange slices, yogurt and cheese sticks instead.
If your children enjoy chewing gum, be sure to buy the sugar-free variety.
Helping your children practice good oral hygiene at home and visiting a dentist before the end of summer can ensure they are smiling when you send them off back to school. Contact a dentist in Manchester today to cross off this important item from your back-to-school checklist!  
About the Practice
At Fromuth & Langlois Dental, patients are treated like family members and provided personalized, one-on-one care that meets their unique needs. This patient-centered philosophy holds true for any member of the family that visits the Manchester-based dental practice, from elderly grandparents to young children. To schedule a back-to-school dental appointment for your kids, you can visit the Fromuth & Langlois Dental website or call (603) 644-3368.