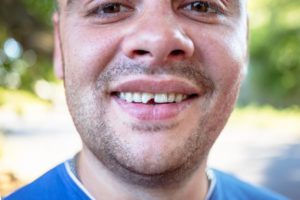 Accidents happen, no matter how much we try and prevent them. Sometimes those accidents include a chipped tooth. When that occurs, it's all too easy to panic. What should you do? First and foremost, make sure to call your emergency dentist to alert them to the situation. Depending on where the chip is located and the extent of the damage, your dentist may recommend different treatment options. Let's talk more about those choices and what you should do if you just chipped a tooth.
What to Do When You Chip or Fracture a Tooth
As mentioned above, the first thing you should do is call your emergency dentist. Most dentists keep extra time in their schedules for dental emergencies such as this. They will do everything they can to see you the same day you call.
In the meantime, here are some tips you can follow to keep the situation under control:
If there are any jagged edges to the tooth, cover them with dental wax or sugar-free gum.
Avoid very hot or cold foods and beverages, as your tooth may be sensitive.
If your tooth hurts, take an over-the-counter pain reliever such as ibuprofen or acetaminophen.
Rinse your mouth with warm water.
To prevent swelling, apply a cold compress.
Eat only soft foods and don't chew directly with your broken tooth.
Treatment Options
Depending on the severity of your fracture, your dentist might suggest different treatments, such as:
Filling. If only a small portion of enamel has been removed, your dentist can apply a tooth-colored filling to the area. Then you'll be good as new in no time!
Veneers. Veneers are thin shells, usually made of dental porcelain, that are bonded to the front surface of a tooth to cover up any chips. The only problem is your dentist will have to remove a sliver of tooth enamel to make room for the veneer, so the treatment is considered irreversible.
Root canal. If your fracture is more severe and exposes the nerves and blood vessels in your tooth, that leaves it more vulnerable to infection. In this case, your dentist may perform root canal therapy, where they remove the nerve. Although this procedure has a reputation for being painful, it's actually no more uncomfortable than a simple filling.
Crown. A crown is a tooth-shaped cap placed over a tooth to cover it up and protect it from further damage. They are typically made from either metal, porcelain, or porcelain fused to metal. Additionally, they can be color-matched to seamlessly blend in with the rest of your smile.
Chipping a tooth isn't the end of the world. By following the steps listed above, you can minimize the damage. Remember, the most important thing is to call your emergency dentist as soon as possible.
About the Practice
At Fromuth & Langlois Dental in Manchester, NH, patients are treated not as names or number on a chart, but as individual people who deserve one-on-one care. You'll be given a personalized treatment plan to make the most of your visits. If you call with a dental emergency, we'll do our best to see you that same day for treatment. If you have chipped a tooth, don't be afraid to visit our website or call us at (603) 644-3368.