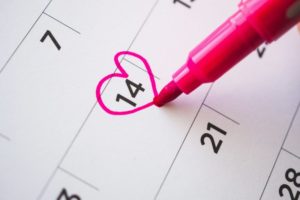 Whether you've been with your partner for years, months, weeks, or days, it's always important to make an effort and look great. One of the best ways to bring your best self to your romantic, planned Valentine's Day date is to make sure that your smile looks and feels fantastic, because that's typically the first trait that people notice about you. Read on for some tips and tricks from your dentist on how you can show up to impress.
Cure Bad Breath
If you love flavor-packed foods that contain garlic, onion, and dairy products, you may want to think twice about having a snack containing these items before you go on your date. It never hurts to brush, floss, and rinse your mouth before you date to make sure that no lingering food particles on your tongue and teeth cause your breath to be unbearable. It's important to never forget to clean your tongue when you're doing your daily hygiene routine, because it's known to effectively trap food particles that lead to chronic bad breath, also known as halitosis. If your smelly breath persists, be sure to visit your dentist, because this is also a common sign of gum disease.
Brighten Your Smile
The best way to make a memorable and attractive appearance during your date is to enhance your smile with professional teeth whitening in Manchester. Even if your date is in a few days, your dentist will be able to make your grin up to eight shades brighter in as little as an hour. They use highly trusted, tested, and reliable ingredients that break apart discoloration and transform your smile from a yellowish tint to beautifully bright. If you have a little longer before your date to achieve results, they also offer convenient professional take-home kits that can provide you with optimal brightness within two weeks.
Invest in a New Toothbrush
Do you still use a manual toothbrush? While there's nothing wrong with doing it the old-school way, today, there are countless electric and sonic toothbrush options out there that are more effective and efficient at clearing plaque and bacteria from your teeth, gums, and tongue. To maintain great oral health, ask your dentist if they have any recommendations for new dental hygiene products that can benefit your oral health.
Visit Your Dentist For a Checkup and Cleaning
Before your big day with your partner arrives, the best way to feel confident is to visit your dentist for a checkup and cleaning. After thoroughly examining and cleaning your teeth and gums, you'll be able to rest-assured that you have a clean bill-of-health. A refreshing professional cleaning can also have you feeling more confident about showing off your smile to your date!
On Valentine's Day, it's important to make an effort for your partner to look and feel great. Taking the extra time to care for your teeth and gums can do just that. When you bring your best self to the date, they won't be able to help but to fall in love with you again!
About the Author
Dr. Stephen Langlois has over three decades of experience helping his patients maintain happy and healthy smiles. He is passionate about benefitting his patients by providing them with long-term, high-quality dental care that equips them with the knowledge and treatments they need to feel great about their oral health. He is also an active member of several professional organizations, including the American Dental Association and the New England Academy of Cosmetic Dentistry. For questions or to schedule an appointment for a checkup and cleaning, visit Fromuth & Langlois Dental's website or call 603-644-3368.