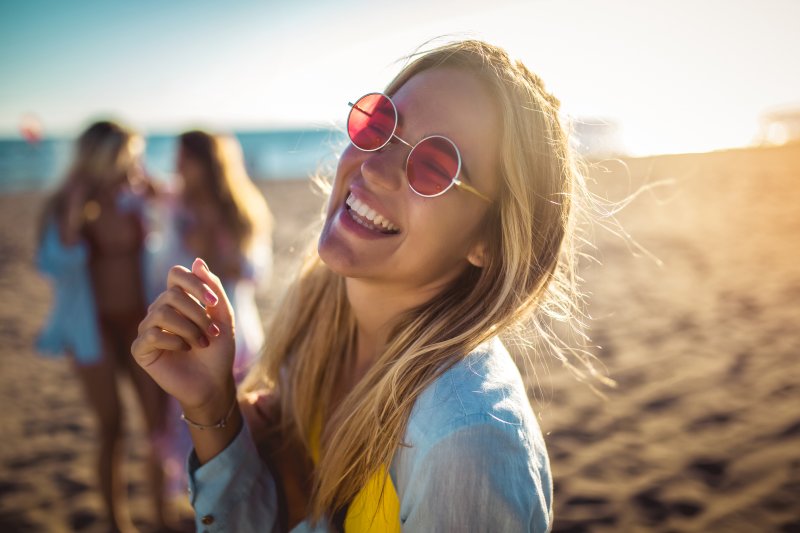 You know, cosmetic dentistry is really helpful during the summer months. The right procedure can prep you for vacation photos and socializing with friends and family. Plus, the confidence from whiter teeth would only enhance your fun in the sun. What's not to like? That said, here are three summer-appropriate dental treatments from your Manchester cosmetic dentist. Read about them to see if a better-looking smile would improve your season.
Cosmetic Dental Bonding
Cosmetic dental bonding applies composite resin to hide minor tooth imperfections. Said imperfections could include stains, cracks, chips, and fractures.
Dentists can usually do it in a single appointment. They'll shape the resin over the affected tooth, then use a curing light to harden the material. Doing so ensures it won't wash off or move from its designated area.
Cosmetic bonding can last at least ten years without issue if cared for properly. Plus, it's well-known for being an effective, low-cost treatment.
Invisalign® Clear Braces
If you already thought you wanted a straighter smile, summer would be a great time to do Invisalign. The treatment moves your teeth using clear aligning trays rather than eye-catching brackets and wires. People around you might not even notice you have them!
They also wouldn't get in the way of having your favorite seasonal foods and drinks. The removable trays wouldn't limit your meal options or need extra cleaning. Just remember to brush your teeth and floss once you've finished eating since you'll need to reinsert the aligners afterward.
Teeth Whitening
Dentist-approved teeth whitening uses ingredients like hydrogen peroxide to bleach tooth enamel white. It's usually done at-home through a bleaching kit or in-office with professional-grade tools.
At-home whitening would have your dental practitioner give you plastic mouth trays and a bleaching gel. By wearing the gel-infused trays for thirty minutes a day over two weeks, your smile will whiten by several shades.
Meanwhile, in-office whitening has your dentist apply the bleaching gel directly to your teeth. Depending on the need for added coating, you'll likely see immediate results in just one appointment.
Cosmetic dentistry isn't just useful for isolated events or gatherings. As the three services above show, it can make your entire summer an exciting and unforgettable experience!
About the Practice
Fromuth and Langlois Dental is a practice based in Manchester, NH. Led by Dr. Robert Fromuth, their team treats every patient with highly personalized and detailed dental care. To that end, their services span preventive, cosmetic, and restorative dentistry, including emergency dental procedures. They also employ advanced dental technology in all their work, thus ensuring top-quality results. For more information or to book an appointment, they can be reached at their website or by phone at (603)-644-3368.