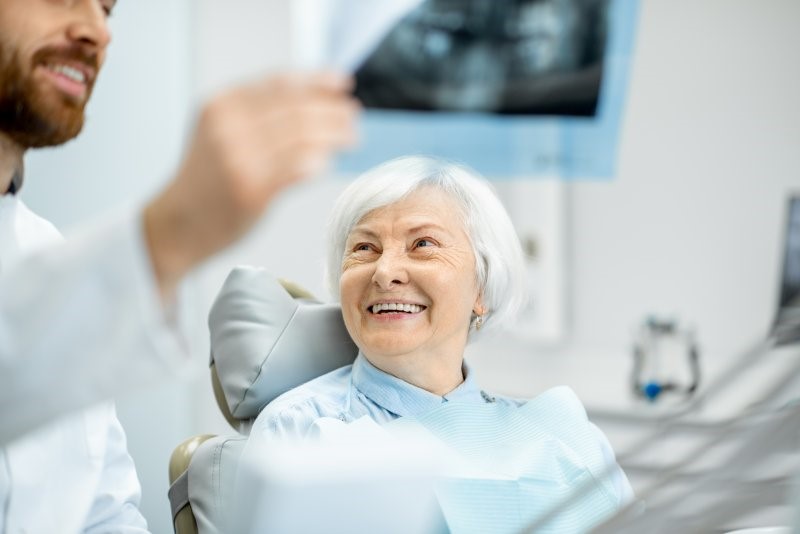 It's not uncommon to be unhappy with your smile. In fact, 33% of Americans are displeased with the look of their pearly whites. For people who are part of that statistic, cosmetic dentistry can help. These services focus on improving the look of your smile so you feel more comfortable and confident with your beam. If you're a little older and considering cosmetic dentistry, you may be wondering if there's ever a point when you can't undergo these treatments anymore. Not only are you not too old for cosmetic dentistry, but it can also benefit your smile in several ways. Keep reading to learn about three ways that cosmetic dentistry benefits older patients.
#1: Remove Discoloration
As we get older, our smiles will begin to look discolored. There is a range of reasons for this, such as consuming dark or highly pigmented foods and drinks, taking certain medications, and other factors. In-office whitening can brighten your smile by several shades in just one visit, and take-home whitening can improve the look of your beam within a few weeks of daily use.
Porcelain veneers and dental bonding are also great options. Veneers cover up the entire front of the tooth, and dental bonding can be shaped to the tooth to cover stains. Metal-free dental restorations may also be used in some cases.
#2: Fix Worn-Down Teeth
Tooth enamel is the outermost part of the tooth and protects it from harm. Your enamel will wear down over time, but things like an improper diet, Teeth grinding, and poor oral hygiene can cause it to wear faster. enamel is the strongest substance in the body, but it can still become cracked, chipped, or broken.
Porcelain veneers can cover up the damage. The same goes for dental bonding. In more serious cases, dental crowns may be necessary to protect the tooth and rebuild its structure.
#3: Undergo a Complete Smile Makeover
There are a range of oral health and cosmetic issues that are more common in older patients. This includes discoloration, shifting teeth, and more. In this case, a smile makeover may be the best answer.
This procedure includes several cosmetic treatments and can be used to fix gaps, chips, discoloration, cracks, minor alignment problems, and misshapen teeth. Some of the treatments it may include are porcelain veneers, teeth whitening, Invisalign, cosmetic dental bonding, or metal-free dental restorations.
About the Practice
Fromuth & Langlois Dental of Manchester is here to offer patients a range of treatments to protect, repair, and improve their smiles. For older patients, you're never too old for cosmetic dentistry! They can go over their many cosmetic treatments to help you determine which ones are right for you. Do you want to learn more about the services offered at Fromuth & Langlois Dental of Manchester or to schedule an appointment with Dr. Robert C. Fromuth or Dr. Stephen L. Langlois? If so, you can call their Manchester office at (603) 931-4137 or visit their website to get started.