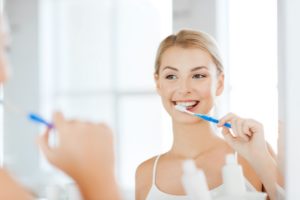 Veneers can give your smile a complete makeover using a long-lasting solution. Your dazzling new smile can last for a decade or longer with the right aftercare. Your oral hygiene is the most important factor to influence the lifespan of your veneers. Your brushing routine is your first line of defense against decay, infections, and other issues that can cause your veneers to fail; however, only if you use the right products. The wrong toothpaste can ruin your smile. Don't worry, here's how to choose the best toothpaste to get the most from your investment. 
The Type of Toothpaste Matters
Veneers are made of porcelain because it closely looks like enamel. It's also lightweight and durable, but it's not indestructible. The wrong toothpaste will damage your veneers, as well as any abrasive dental products, like hard-bristled toothbrushes.
Abrasive products can scratch your veneers, making them look dull and discolored. Food particles and plaque can get trapped in the spaces, further affecting their appearance and causing unpleasant odors. It will also damage your veneers over time, so you'll need replacements sooner.
Toothpaste to Avoid
Your cosmetic dentist will recommend avoiding 2 types of toothpaste that can harm your veneers, which include:
Abrasive Toothpaste: Certain ingredients can be abrasive, like baking soda. Although they can help polish your natural teeth, they can ruin the shine and texture of veneers.
Whitening Toothpaste: A whitening toothpaste isn't necessary because porcelain is stain-resistant. Hydrogen peroxide can also damage the structure of veneers.
Best Toothpaste for Veneers
You don't have to pay more for specialty toothpaste to maintain your veneers. You just need to find one that will provide a good clean gently. Look for toothpaste that doesn't contain any whitening agents, like baking soda or hydrogen peroxide. Gel toothpaste is often less abrasive.
Besides the texture and ingredients, look for the American Dental Association's Seal of Acceptance, which means it has undergone voluntary testing for safety and effectiveness.
Don't Forget About Your Toothbrush
Your toothbrush is just as important as the toothpaste you use. Only use soft-bristled toothbrushes that accommodate the size of your mouth, whether manual or electric. Again, look for those that have the ADA's Seal of Acceptance. Even with soft bristles, avoid pushing too hard when brushing.
Brush your teeth twice daily, if not after every meal, for 2 minutes to remove food debris and plaque. Don't forget to floss daily to remove buildup that can lead to gum disease. Besides caring for your smile at home, visit your dentist every 6 months for a cleaning and checkup. Your new smile will thrive for years by keeping your teeth and gums healthy.
About Dr. Stephen L. Langlois
Dr. Langlois earned his dental degree at Washington University and has pursued continuing education at the LD Pankey Institute, Dawson Academy, and Spear Institute. He is a member of many professional organizations, including the American Academy of Cosmetic Dentistry. Request an appointment through our website or call (603) 931-4137.