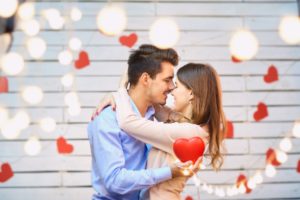 Have you still not found the person you want to spend the rest of your life with? Maybe you have given up the search or haven't even started because you're embarrassed by your smile. Believe it or not, your oral health can affect your love life. A recent survey found that 68% of respondents admit bad teeth or breath are a deal breaker. An unattractive smile doesn't have to put a kink in your love life. Your dentist has the solutions you need for an irresistible smile. 
Boost Your Love Life with a Healthy Smile
According to a recent survey, 88% of participants found it important to date someone with a nice smile. A social experiment supported the link between poor dental health and dating, which found good teeth to be the number one feature people look for in a date.
Bad breath and cavities don't have to come between you and your love life. Good oral hygiene at home can be the spark you need to rekindle the romance in your life.
Brush your teeth at least twice daily and floss every night. Use a daily mouthwash to keep your smile clean while benefiting from minty fresh breath.
If it has been longer than 6 months since the last time you saw a dentist, schedule a cleaning and checkup. They'll remove any plaque and tartar buildup while checking for any untreated oral health issues, like tooth decay.
Invest in a Picture-Perfect Smile
If better oral hygiene habits aren't enough, a cosmetic dentist can revamp your pearly whites. They'll create a personalized treatment plan to address your aesthetic concerns to give you a smile you'll be proud to show off. You have more options than ever before, including:
Porcelain Veneers: Bonding veneers to the teeth visible when smiling corrects many issues at once, like gaps, stains, and chips. You can save time and money using a quick, minimally invasive procedure.
Metal-Free Dental Restorations: Tooth-colored materials can repair damaged teeth. They provide a metal-free solution that will blend in with your smile.
Cosmetic Dental Bonding: A composite resin is shaded to the color of your enamel to fix minor issues, like decay, exposed tooth roots, and cracks. It provides a quick fix to enhance your smile without the wait.
Invisalign: Clear aligners are worn over your teeth to correct bite and alignment problems. You won't have to worry about the appearance or restrictions of brackets and wires.
Teeth Whitening: Surface and age-related discoloration can improve by up to 8 shades using a professional whitening system.
It's never too late to invest in a confident smile to boost your dating life. It might be just the thing you need to attract your soulmate.
About Dr. Robert C. Fromuth
Dr. Fromuth earned his dental degree at the University of North Carolina and has completed advanced training in restorative and cosmetic dentistry. He is a member of many professional organizations, including the American Dental Association and the Pankey Institute. Request an appointment through our website or call (603) 931-4137.