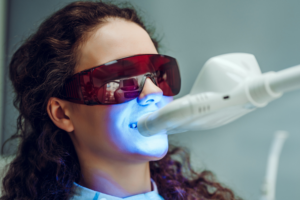 Society attributes bright white teeth to youth, success, and confidence. Everywhere you look, it may seem like everyone has stunning smiles, but did you know white teeth don't always come naturally? Genetics can influence the color of enamel; however, your DNA isn't the only thing to influence your smile. Don't worry, your cosmetic dentist has the solutions you need to revamp your pearly whites.
Genetics Isn't the Only Cause of Stains
Your teeth can closely resemble the color of your mother's or father's smile. Although genetics plays a small role in the color of teeth. Many other factors have a larger influence, like:
Oral Hygiene: Poor oral hygiene habits can cause teeth to look yellow or brown.
Diet: The foods and beverages you consume can leave stain-causing residue on your teeth.
Lifestyle: Smoking and other lifestyle habits can cause discoloration.
Medications: Some medications are known to darken teeth, like certain antibiotics.
Age: Your enamel gets thinner with age, causing more yellowish dentin to be visible.
You Can Have a Whiter Smile
Over-the-counter whitening products target stains and discoloration, but none contain professional-grade ingredients. As a result, any improvement you see is minimal and won't last.
You're not out of options. Your cosmetic dentist can get your teeth significantly whiter using a personalized treatment plant. After an initial consultation to ensure your teeth and gums are healthy, they'll recommend a whitening solution based on your type of discoloration, which includes:
In-Office Whitening: Your teeth can get up to 8 shades whiter during your lunch break. A protective barrier is placed over your lips and gums before the whitening agent is applied to your teeth. A special light is used for three 15-minute intervals to dissolve stain-causing molecules.
At-Home Whitening: You can enjoy the convenience of an over-the-counter product with the improvement of an in-office treatment using a take-home kit. Your dentist will give you the trays and whitening gel to use daily for about 2 weeks. Your teeth will get whiter gradually as each day passes.
Keep Tooth Discoloration at Bay
You can take several steps to maintain a bright, beautiful smile like:
Practicing Good Oral Hygiene Habits: Brush your teeth at least twice daily for 2 minutes each session and floss every night before going to bed.
Watching What You Eat: Limit how often you have dark foods and drinks, like coffee, berries, or red wine. Rinse your mouth with water after having anything that may stain your teeth.
Living a Healthy Lifestyle: Don't use tobacco to avoid tar and nicotine stains.
Visiting Your Dentist: Visit your dentist every 6 months for a cleaning on checkup. They can also provide you with a touch-up kit to maintain your results.
You won't think twice before showing your teeth when chatting with a friend or smiling for a picture. You'll look and feel your best by saying goodbye to discoloration.
About Dr. Stephen L. Langlois
Dr. Langlois earned his dental degree from Washington University and has completed advanced education at the L.D. Pankey Institute and the Dawson Academy. He is an award-winning dentist who is committed to providing high-quality dentistry. As a member of the American Academy of Cosmetic Dentistry and many other professional organizations, he has qualifications you can trust. Request an appointment through our website or call (603) 931-4137.