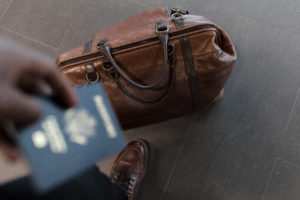 If you're ready to replace your missing teeth with the next best thing to your own, dental implants are the solution for you. However, you might have to put your travel plans on hold for a couple of weeks. You'll require oral surgery to place an implant post into your jaw. Here's how long you'll need to wait before heading out of town.
Dental Implant Process
A dental implant is unlike any other treatment because it replaces both the root and the crown. Rebuilding the entire tooth structure requires a multi-step treatment process that can take many weeks. You can expect your journey to a complete smile to include:
Consultation: You'll require an initial consultation to ensure you're a candidate for dental implants. Besides a visual examination, your dentist will review diagnostic images, including a CT scan. Based on the information, they'll create a personalized treatment plan.
Preliminary Treatments: It's not uncommon to need a little prep work before getting dental implants, like tooth extractions, gum disease therapy, or bone grafting.
Implant Placement Surgery: After you've recovered from any previous treatments, you're scheduled for your placement surgery. Sedation or anesthesia is used to keep you comfortable as posts are inserted into your jawbone. It will take your jaw several months to integrate with the posts through a process called osseointegration.
Abutment: After your bone has healed, you'll need a second minor procedure to attach abutments to each implant post. They act as connector pieces between your implants and restorations. Your gums should be healed in a couple of weeks.
Restoration Placement: Placing your restoration is the final step to completing your smile. They will look and feel just like your natural teeth in no time at all.
Traveling After Dental Implants
It can take a few hours for the effects of any sedatives or numbing agents to dissipate after your placement surgery, so you'll need to spend a day or two relaxing. It's normal for your mouth to be a little sore for a few days, so you may not be up to traveling. Most dentists will recommend that you delay your travel plans for 10-14 days after bone grafting, sinus lift, or placement surgery, especially if you're traveling by plane.
Although you may have to put off your trip, it's a small sacrifice to treat your tooth loss permanently. Your dentist will monitor your healing to let you know when it's safe to head out of town.
About Dr. Robert C. Fromuth
Dr. Fromuth earned his dental degree from the University of North Carolina at Chapel Hill and has regularly continued his education in advanced services, like dental implants. He holds membership in many professional organizations, including the American Dental Association and the New Hampshire Dental Association. Request an appointment through our website or call (603) 931-4137 to see if dental implants are right for you.