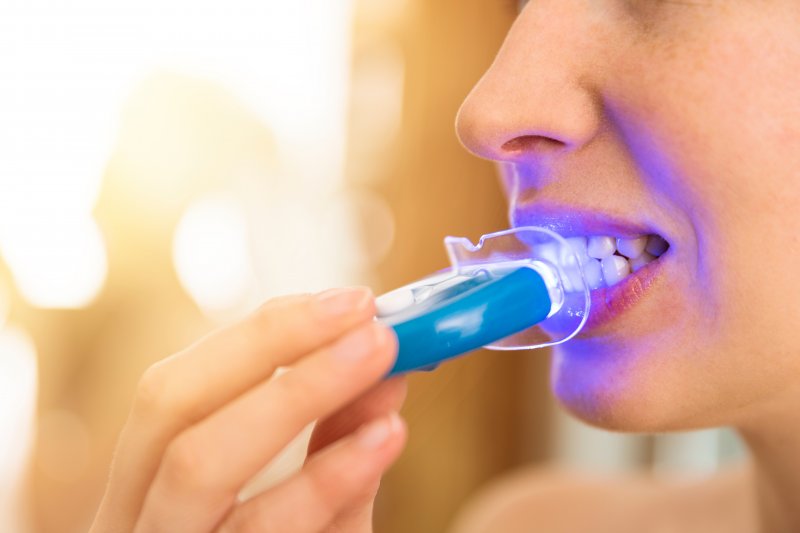 In the pursuit of a brighter, more dazzling smile, many turn to over-the-counter teeth whitening products instead of visiting the dentist. Worse, they may start taking advice from social media that might not have a basis in credible science.
But do any of these readily available solutions really work, or are they simply products of marketing hype? Continue reading to debunk some myths surrounding teeth whitening and find out what treatments get the job done.
Whitening Your Teeth Wears Down Enamel
This is a myth—a popular one. Legitimate generic and professional teeth whitening formulas use chemical whiteners, not abrasives.
However, there are some social media teeth whitening "hacks" and buzzword products that will cause this issue.
Avoid rubbing fruit like strawberries, peeled-off bananas, and lemons on your teeth. This social media-approved treatment may have the opposite effect. The fruits are acidic in nature which slowly eats away at your enamel.
Also, avoid "activated charcoal" toothpaste. Activated charcoal has become a trendy alternative to traditional whitening solutions, but the evidence collected by studies so far is inconclusive at best. Most of these products don't use fluoride in them and charcoal itself is an abrasive that may damage your teeth.
All Teeth can be Whitened
Another myth, unfortunately. The eligibility of your teeth depends on certain factors, and everyone's dental health is different. For instance, pigment spots are sometimes formed by taking certain antibiotics, and the color of "dead teeth" that have a removed nerve can't be whitened.
It's also important to know that fillings, dental bonding, and other cosmetic treatments also cannot be brightened.
The color for these treatments was chosen to match the shade of your teeth at the time. If you have fillings, you might want to have the color "updated" once your whitening is complete.
You can Whiten Your Teeth at Home
Fact. Dentists do offer in-office treatments that can be done in less than an hour, but if you'd rather whiten your teeth at home, there are several products available.
Your dentist can offer a take-home kit from their office, but you can get over-the-counter teeth whitening bundles from various shops and pharmacies as well.
The active ingredients in professional and working generic brands are the same—whitening gel containing hydrogen peroxide, but generic brands contain the chemical at a much lower concentration which may prolong your teeth whitening journey. Some brands may also contain potassium nitrate which eliminates teeth sensitivity while whitening.
Remember, whether you choose over-the-counter products or professional treatments, the key to achieving your desired results lies in informed decisions and diligent care.
About the Practice
Dr. Robert C. Fromuth and Dr. Stephen L. Langlois enjoy helping others achieve healthy, beautiful, and confident smiles. Every patient who walks through the door at Fromuth & Langlois Dental of Manchester receives the finest treatments available from these caring and passionate dentists. Dr. Fromuth completed a General Practice Residency at the prestigious D. Pankey Institute, and Dr. Langlois was honored with the Master of the Academy of General Dentistry award, the highest achievement in the organization for lifelong learning. To schedule your teeth whitening appointment, visit the website here or call (603) 644-3368 for more information.